A particularly sensitive issue, the fight against all forms of extremism and radicalisation requires the participation of all citizens and professionals in Europe, including those involved in the field of knowledge.
It is on this basis and in response to a European call for tenders following the attacks in January 2015, which was supported by the French government, that the PRACTICIES (Partnership Against Violent Radicalisation in Cities) Network was created. It involves more than 25 partners from various European countries (Italy, Austria, Spain, Belgium, Greece, Portugal) as well as Tunisia, all experts in the humanities, political science, information sciences and information technology.
The objectives of this network are to better understand the risk factors and the mechanisms of violent radicalisation and to characterise them from the origins to the act in order to design concrete prevention tools against hate speech and recruitment processes.
PRACTICIES works in particular on better understanding communication processes that promote or limit the spread of hate speech among young people, whether in public, community, family or virtual spaces (social networks, etc.).
It also aims to identify good intervention or prevention practices that address violent radicalisation at European, national and local level. And ultimately to develop effective actions and innovative tools to fight radicalisation.
Finally, it works closely with representatives of civil society involved in prevention, such as associations of mothers of children who died in Syria (in Belgium in particular), cities or networks of cities (Nice, Toulouse), but also police or anti-terrorist structures (Spanish, Tunisian or Greek police).
Objectives
The PRACTICIES project aims to understand radicalisation in order to better anticipate its occurrences and intervene as early as possible in this negative process. Our research and assessment of the professional practice of practitioners will allow to reduce the risk of violent radicalisation and improve urban security in partner cities. In this sense, PRACTICIES wants to contribute to tackling one of the biggest challenges faced by European cities, that is to empower and engage residents, and particularly the most vulnerable, and thus become more inclusive and diverse cities.
More specifically, the project aims to achieve the following objectives:
Document risk and protective factors

Understand communication processes that promote or limit the spread of radical discourse

Identify good intervention and prevention practices around radicalisation leading to violence

Evaluate programs around radicalisation leading to violence

Evaluate and develop programs to strengthen social cohesion

Create spaces for discussion and exchange between academic and social actors around understanding the phenomenon of radicalisation leading to violence

Strengthen theoretical, methodological and practical exchanges between researchers, stakeholder networks and cities

Participate in political

decision making

to improve the safety of cities.
Activities
The prevention of and fight against radicalisation have an obvious urban dimension. PRACTICIES – by mobilising partner cities and bringing together other cities – will enhance professional practices in cities and increase the sense of security by rallying citizens in a shared, democratic approach to security.
The project mobilises networks of European cities and experts from the fields of humanities and political and information sciences with the objectives of better understanding the "human roots of radicalisation", characterising these processes and their origins and building concrete prevention tools and practices. It will assess the risk and protection factors as well as the discourses and propagation modes of radical ideas/actions among young people in European cities. Moreover, it will evaluate the current practices, programmes and policies against radicalisation, decrease community tensions and increase social cohesion, identify good intervention practices, and assess the possibility of using them in cities across Europe.
Over a period of 3 years, these activities will be performed in the framework of the following 9 work packages:
WP1 Ethics requirements (

University of Toulouse II – Le Mirail)

WP2 Inventory of factoring of insecurity and radicalisation (

TNS Opinion Kantar)

WP3 Etiology of the processes of radicalisation and radicalisation levels tipping point 

(Centre de Prévention contre les Dérives Sectaires liées à l'Islam)
WP4 Early prevention and inclusive citizenship education (

Fachhochschule Salzburg GmbH,

Media Actie Kuregem Stad,

University Charles de Gaulle Lille 3)

WP5 Policies to fight against radicalisation – Overcoming implementation problems 

(

University Rey Juan Carlos)

WP6 The fight against failure and speech against speech (

University of Grenoble Alpes)

WP7 Fighting with effective tools against digital radicalisation 

(

University of Piraeus Research Center)

WP8 Working group of cities and dissemination (Efus)

WP9 Management of the PRACTICIES consortium (

University of Toulouse II – Le Mirail)
---
Brochure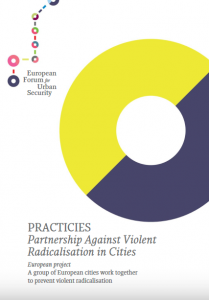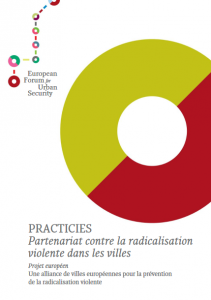 ---
Final Conference: online sessions


The project held its final conference in April with a series of seven online webinars on the project's main results and recommendations.
Concluding three years of intensive work, the conference was originally scheduled to take place in March in Riga (LV) at the same time as Efus' General Assembly meeting, but both events were cancelled because of the lockdown measures imposed throughout Europe in response to the Covid-19 pandemic. l.
Find out more about the webinar series
---
Practice
s
heets
Outputs and results
PRACTICIES is led by the University of Toulouse II – Le Mirail (FR).
The consortium includes 22 partners: the Ministry of the Interior CITCO (ES), Fachhochschule Salzburg GmbH (AT), University of Calabria (IT), University Charles de Gaulle Lille 3 (FR), TNS Opinion Kantar (BE), Media Actie Kuregem Stad (BE), Stadtgemeinde Salzburg (AT), University Rey Juan Carlos (ES), Ministry of Justice (PT), Qualify Just – IT Solutions and Consulting LDA (PT), University of Grenoble Alpes (FR), Centre de Prévention contre les Dérives sectaires liées à l'Islam, CPDSI (FR), University of Piraeus Research Center (GR), Kentro Meleton Asfaleias (GR), Office national d'Études et de Recherches aérospatiales (FR), City Council of Madrid (ES), City Council of Amadora (PT), Métropole Nice Côte D'Azur (FR), Association Forum des Sciences sociales appliquées (TN), City Council of Toulouse (FR), Commission nationale de Lutte Contre le Terrorisme (TN), and European Forum for Urban Security (FR).
Eight European cities and civil society institutions are associated to the project as end users: Land of Berlin – Office of the State Commission against Violence (DE), the Senate Department for Education, Youth and Science of Berlin (DE), Municipality of Schaerbeeck (BE), Municipality of Liege (BE), Region of Calabria (IT), Leitung Beratungsstelle Extremismus (AT), NGO Syriens ne Bouge Agissons (FR), S.A.V.E. Belgium (BE).
Duration
May 2017 to April 2020
Financing
PRACTICIES is 100% funded by the European Commission's Horizon 2020 framework programme for research and innovation.
Contacts
Project Coordinator
For Efus
Events