The Hague, Netherlands, September 2017 – What are the latest developments on the dark web? What aspects of the dark web present challenges for public security? What are today's best policing practices in this respect? These were some of the main questions discussed at the workshop on "Policing the Dark Web" of the MEDI@4SEC project, of which Efus is a partner, held in The Hague (Netherlands), on 26 September.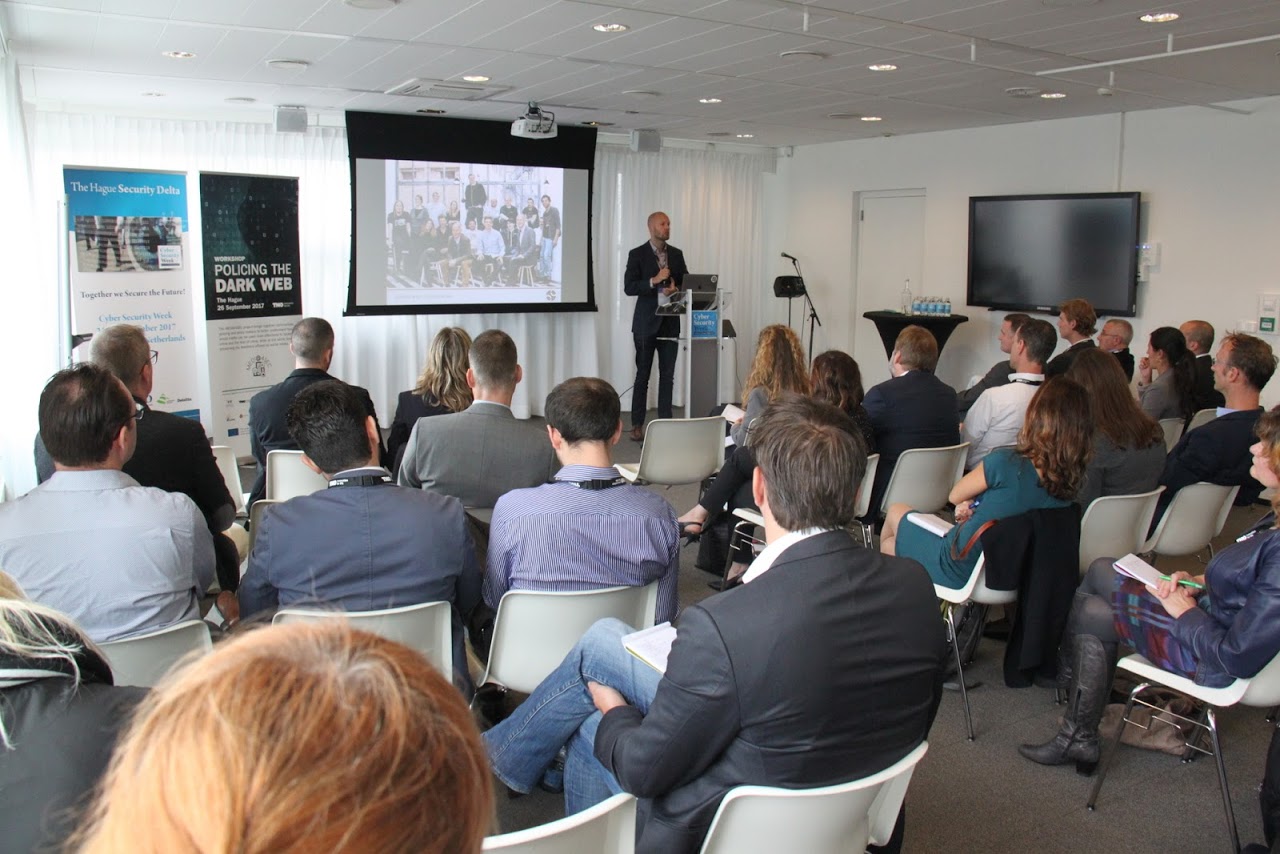 The workshop was organised by the Netherlands Organisation for Applied Scientific Research (TNO), which is partner in the project, as part of the Netherlands Cyber Security Week. International law enforcement, research and business experts who police crime on the dark web gathered in The Hague to exchange on how to reduce criminal activities on this hidden part of the world wide web, which is accessible anonymously and without being traced. Illegal activities such as drug and arms traficking, child pronography, extortion, fraud, etc., can be carried out on the dark web through a specific browser, the Onion (TOR), using untraceable currency such as bitcoins. However, it is to be noted that criminals are not the only ones using the dark web. Some law-abiding citizens also use it to avoid corporate and government surveillance on the open web, which they consider objectionable.
Law enforcement representatives presented recent successful cases, such as the closure of two criminal websites, AlphaBay and Hansa, which were among the largest providers of drugs, weapons and other illegal products on the dark web, and the progress made in  investigations by anti-drug and counter-terrorism teams. Tools developed through EU-funded projects (e.g., BitCrime) and private businesses (e.g. Chainalysis' blockchain analytics) were also presented.
Afterwards, there was an intense brainstorm session in groups, and a panel discussion with policymakers.
An environment enabling fast innovation in criminal activities
Transnational and highly dynamic, dark markets provide criminals with an environment where they are are able to  innovate very fast. Policing this vast cyberspace requires increased international coordination. Although good progress has already been made, more exchange and collaboration is needed to gain efficiency and limit duplications and costs. Some recent examples of such increased international cooperation are centralised dark web trainings, a common bitcoin database and shared analytics tools for investigators. Homogeneity is also key for legal and regulatory action. Specialists call for creating a common international legal framework comprising internet and cryptocurrency regulation, as well as mandatory risk assessments for service providers and relevant cyber-companies.
Prevention is key to tackle cybercrime
Prevention may be more effective than investigating individual incidents. Awareness and crime prevention campaigns should be implemented to advise the public on how to report a crime, prevent citizens from becoming victims, as well as campaigns targeting potential cybercriminals on the consequences of their activities. Furthermore, as they are close to citizens, local authorities can play an important role in protecting citizens from cyber threats.
Meet us at the Barcelona MEDI@4SEC workshop
The next workshop of the MEDI@4SEC project will be held in Barcelona on 14 November, a day before the opening of Efus' international "Security, Democracy and Cities" conference. The theme will be: "Everyday security: social media uses to enhance public security". The focus will be the use of social media as an open source of intelligence in crime prediction and investigation, and other daily activities of security providers.
For further information on the "Everyday security" workshop please visit the MEDI@4SEC  website. Join our community Linkedin and follow us on Twitter.