New York, United States, March 2021 – Representing Efus, the Mayor of Matosinhos (Portugal), Luísa María Neves Salgueiro, took part in a panel discussion with other city-wide networks organised by the Peace in Our Cities (PiOC) initiative during the UN Commission on the Status of Women annual meeting in New York. Ms Salgueiro, who is a member of Efus' Executive Committee, shared insights from city-based initiatives to counter the most serious forms of violence against women, in particular in Portugal and Europe.
Strengthening women's leadership and participation in public life
The UN Commission on the Status of Women (CSW) annual meeting in New York was held virtually under the theme of "Women in Public Life – Equal Participation in Decision-Making". The two-week gathering ended with the adoption of Agreed Conclusions to foster equal participation and leadership of women in public life and to eliminate all forms of violence against women and girls. In this document, the UN recognise that the COVID-19 pandemic is having a disproportionate impact on women and girls and that deepening pre-existing inequalities are perpetuating forms of discrimination and further exacerbate women's social and economic vulnerability.
The role of women mayors and city-based initiatives in eliminating all forms of violence
The initiative Peace in Our Cities hosted an event on "City Leadership for Better Urban Safety and Security Outcomes" on Wednesday 24 March. Mayor Salgueiro of Matosinhos (Portugal), on behalf of Efus, shared the panel with Mayor Nan Whaley of Dayton (Ohio) on behalf of Peace in Our Cities, Mayor Rohey Malick Lowe of Banjul (The Gambia) on behalf of the Global Parliament of Mayors, Former Acting Mayor Anastasiia Popsui of Irpin (Ukraine) on behalf of VNG International and City Council Women's European Assembly.
Violence against women has spiked around the world since the COVID-19 outbreak. Panelists agreed on the key role women mayors play in advancing peaceful societies and explored how to leverage women's leadership to expand safety and security for all. They also acknowledged the importance of global networks connecting mayors and city leaders to prevent and reduce violence in urban areas. City-city networks allow cities to quickly share information and advice and coordinate partners, donors, and support. In the United States, for instance, there is a significant increase in homicide and gun violence, while guns are more accessible to young people, mayors look at ways to encourage and solve disputes in a less violent way. Building peace and resilience in cities is key in order to prevent violence before it happens.
Efus cities committed to fighting gender-based violence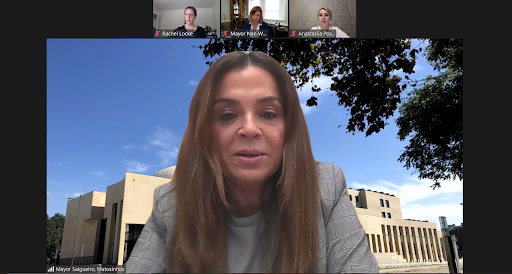 Mayor Salgueiro shared insights from city-based initiatives in Matosinhos and in other European cities working to counter the most serious forms of violence, specially violence against women, and build peaceful and inclusive communities. Though domestic violence has spiked around the world, Matosinhos has seen the numbers decrease since the first lockdown by increasing social services, including LGBTQIA+ resources and secure communications lines. This approach also highlights the need to provide better psychological support to the victims.
Gender-based violence remains one of the most pressing issues for local authorities. Data from some communities in Europe reveal an increasing number of cases of domestic violence and abuse since the start of the pandemic. In France, for example, reports are already up by 32%, and there has been a 25% increase in calls and web-based reports in the UK, as well as a 16% increase in calls in Spain. However, violence and abuse remain systematically underreported and the realities of these phenomena are not reflected in official data.
Increasing and promoting knowledge, exchange and tools available to cities to understand this phenomenon is fundamental. In this respect, the Efus' working group on Preventing Discriminatory Violence has identified as one of its priorities the need to develop the methodology (audits and surveys) to better understand acts of discriminatory violence. Along the same lines, a comprehensive evidence-based response is needed at the local level to prevent incidents and support victims. A working session to further elaborate our priorities and recommendations for preventing discriminatory violence at the local level will be organised in the coming months.
> For more information on Efus' approach to Preventing Discriminatory Violence, please contact Pilar De La Torre (delatorre@efus.eu) or Marta Pellon Brussosa (pellonbrussosa@efus.eu)