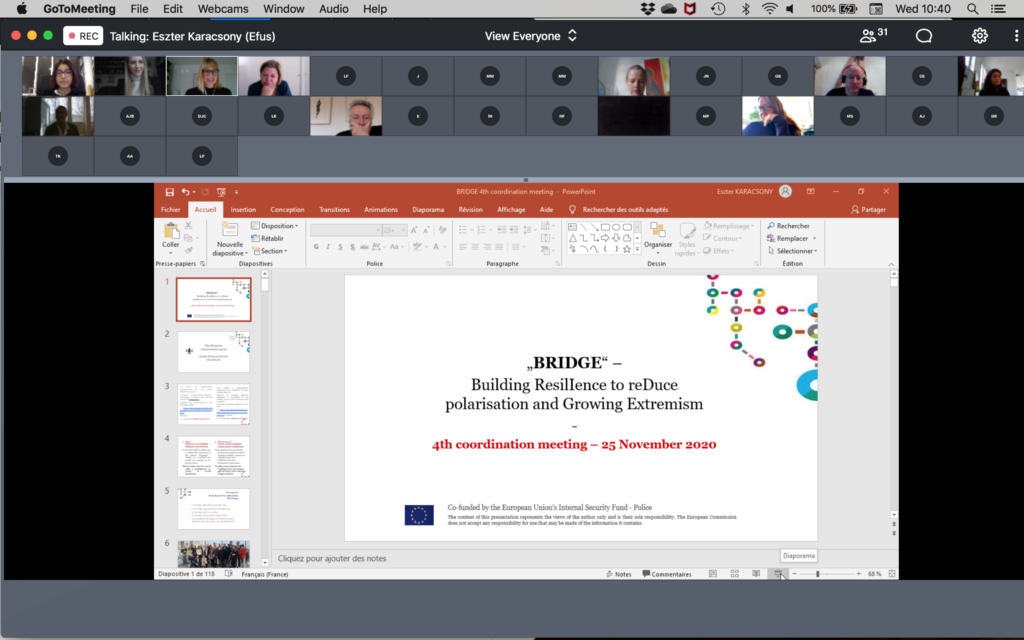 Paris, France, December 2020 – The partners of the Efus-led BRIDGE project (Building resilience to reduce polarisation and growing extremism) discussed their local pilot actions during their 4th coordination meeting, which was held online on 25 November.
The need to create safe spaces for dialogue
The parners first emphasised that the purpose of the project, i.e. countering polarisation and extremism, is of particular importance in light of the recent terror attacks in France, where a school teacher was beheaded by an Islamist extremist on 16 October, and in Austria, where a gunman linked to Daesh killed four people and injured 23 others in Vienna, on 2 November.
In this context, and based on the results of their local audits, the partners stressed the importance of creating safe spaces for dialogue, exchange and awareness. Indeed, some have started organising dialogue sessions for local citizens of different age groups where they can share their experiences and difficulties.
Other local actions are based on artistic and cultural activities as tools to decrease tensions and thus reduce the level of polarisation between opposing community groups, such as writing and/or performing together theatre or screenplays.
The benefits of the restorative approach
Another key pillar of the local actions is the restorative approach, which seeks to rebuild just relations between the individuals and community groups, for example through the 'community circle' process. Based on voluntary participation and moderated by a 'circle keeper' or 'facilitator', it can include the victim and/or his/her family and friends, as well as the perpetrator and/or his/her family and friends. In sequences, all the participants can speak their truth but they can also 'pass' if they wish.
This process is now commonly used in restorative justice and has notably been used in the Northern Ireland peace process to diffuse tensions between the Catholic and Protestant communities.
Deepening the polarisation audit with further research
Some BRIDGE partners chose to deepen their local polarisation audit with questionnaires such as the zero-sum-mindset one designed by BRIDGE external expert Patricia Andrews Fearon of the Department of Psychology of the University of Cambridge (GB) (see the article we published last month). Others enhanced their research by using polarisation indicators prior to organising awareness-raising and training sessions or focus groups on polarising factors and actors, or to design a local action plan as part of an overall strategy to prevent polarisation.
The BRIDGE final publication, a practical handbook for municipalities
Besides working on the implementation of these pilot actions, the partners together with the project experts and Efus are drafting recommendations on how to design and operationalize local prevention actions addressed to any local or regional authority willing to tackle polarisation at the local level.
The recommendations will be included in the project's final publication, which will be a practical handbook comprising also methodological advice, tools and indicators to be used for assessing the extent/level and form of local polarisation. Featuring expertise and practical knowledge, this handbook is to be published in late spring 2021.