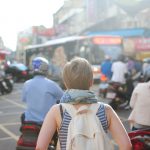 Paris, France, September 2019 – As the summer ends, many Efus member cities are assessing their tourism season. Tourism is a major economic sector for many European cities, but it also generates specific security issues such as the management of crowds, of nightlife, the protection of foreign visitors and ensuring peaceful coexistence between local residents and tourists. The World Tourism Day organised on 27 September by the World Tourism Organization, the United Nations agency "responsible for the promotion of responsible, sustainable and universally accessible tourism", is an occasion to recall Efus' stance and recent activities on this topic.
---
---
> A publication on security and tourism
As part of the "Security and Tourism" European project (2013-2015), Efus published a comprehensive book (108 pages) on the topic of security and tourism in cities, Security & Tourism: Concerted Local Policies (2015). It states that "the tourist city, regardless of its size or type of tourism, must consider security as a major concern in its development strategy" and that tourism and security policies, two areas which have long ignored each other, must be coordinated. 
The publication includes numerous examples of policies and programmes implemented by Efus member cities to improve tourism-related security as well as a series of recommendations for European local authorities. Furthermore, it encourages local authorities to implement "local security and tourism strategies that contribute to the sustainable development of cities and the quality of life of tourists and residents alike."
---
---
> Efus' manifesto and two publications on nightlife
Efus "Security, Democracy and Cities" manifesto (2017) does not include a section on tourism as such, but it does address one of the most important aspects of urban tourism: nightlife, which plays an increasingly important role in the attractiveness of cities. Some invest in their offer of night time activities and entertainment with the aim of increasing tourism, whereas others attract growing numbers of tourists because of their existing nightlife.
The manifesto includes a section titled "A responsible nightlife", which recommends that local authorities assess their tourism-related security challenges; coordinate the different fields of intervention within public institutions and partners from the volunteer and private sectors; adopt an approach based on harm reduction, and ensure good coexistence between local residents and tourists who should be considered as temporary citizens of the cities they visit.
---
---
Efus has been working on the topic of the management of nightlife for a long time. It has produced in the past few years two publications on this issue: Alcool, ville et vie nocturne (Efus, 2017, in French only) and Safer Drinking Scenes. Alcohol, City and Nightlife (FFSU and Efus, 2013). As per their titles, both publications address the management of alcohol consumption at night and how cities can reduce harms while fostering a dynamic and safe nightlife.
Furthermore, Efus will publish an article on the theme of security and tourism, in particular at night, in the French specialized magazine Espaces, on november/december.