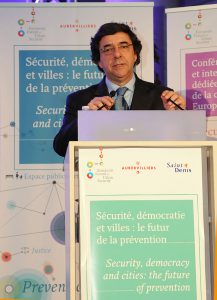 09 January 2017 – It is with great sadness that we announce the passing of Guilherme Pinto, on 8 January 2017. Mayor of Matosinhos (Portugal) and President of Efus since 2010, he had to step down from his positions on 5 January 2017 due to health problems.
The tone of the six-year presidency of Guilherme Pinto at the helm of the European Forum was set in May 2010 at the annual General Assembly in Berlin. As they do every year, representatives of local authorities from all over Europe were on their way to Berlin for the AGM when a volcano with an unpronounceable name erupted, causing huge disruption in the European air transport system and even the closure of part of the European air space.
Guilherme Pinto, who represented the candidacy of the city of Matosinhos -a very active contributor to the Forum's European and national activities-, arrived out of breath but with a conquering smile. Far from being discouraged by climatic constraints, he had crossed Portugal, Spain, France and Germany by car, driving in shifts with his travel companions through the night. He had made a joyful adventure of these adverse circumstances and discovered parts of Europe he didn't know before.
In the six years that followed, as President of Efus, he used this boundless enthusiasm and determination to progress and move our collective project forward. This epic trip was but the first of many others in which Guilherme worked tirelessly to bring renewed dynamism and strength to a Europe undermined by a financial, political and existential crisis.
Guilherme was intensely curious and his vitality was contagious. During all these European meetings and encounters, he shared his love for his city of Matosinos, his passion for its inhabitants and the best fish in the world, but also his vision of an intangible, inclusive and sustainably security. He gave each one a place within the network, strengthened existing partnerships and forged new ones: his leadership contributed to uniting and developing the network.
The Efus team and network are immensely grateful that Guilherme chose to put his good will, pragmatism, enthusiasm and political vision at the service of our common project. We will pay a tribute to him during our next General Assembly, on 18-19 May in Riccione.
We send our sincere condolences to his family, his team and the inhabitants of Matosinhos.
Elizabeth Johnston
Executive Director