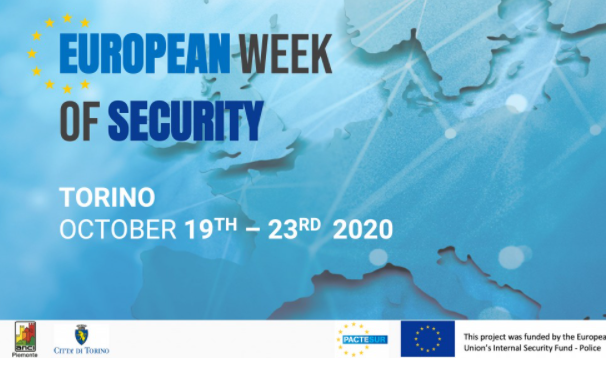 Turin, Italy, October 2020 – The second European Week of Security was officially launched this Monday and will last until Friday 23 October. In the framework of the PACTESUR project, local security stakeholders, police representatives and experts from all over Europe are gathering to discuss the protection of public spaces against risks, crisis and emergency communication, urban planning and design, the use of digital tools and the impact of Covid-19 on the management of public spaces. A partner in the PACTESUR project, Efus is organising several sessions of the Second European Week of Security, in which representatives of the Expert Advisory Committee and Associated Cities are sharing their experience in protecting public spaces against risks across Europe.
The challenge of keeping urban dwellers safe
Hosted by the city of Turin, the Opening Session began with a word of welcome from representatives from the partner cities of the PACTESUR project. The Mayor of Turin, Chiara Appendino pointed out that making citizens safe is the most important challenge facing European cities while Bénédicte Biron, Head of Division Security & Safety Plan, City of Liège (representing Willy Demeyer, Mayor of Liège and President of Efus), stressed the importance of communication in crisis management. Andrea Corsaro, President of ANCI Piemonte, stressed the fact that smaller cities share the same challenges but without the same infrastructures or ressources. Emiliano Bezzon, Chief of the Local Police of Turin, mentioned that a key activity of his organisation is to reinforce citizens' resilience through, among other aspects, their involvement in the security of public spaces. This is particularly relevant as the project PACTESUR aims to promote this aspect through the organisation of awareness-raising activities.
Moderated by Luca Guglieminetti, Expert from the EU's Radicalisation Awareness Network (RAN), the first session allowed speakers to focus on relevant topics, such as the terrorist threat, the Covid-19 impact and the role of innovation in urban security.

Hosted by Isabella Abrate, PACTESUR Expert Advisory Committee, the second day focused on the role of communication in emergency and crisis management. The afternoon session introduced the participatory and integrated security approach of cities in the protection of public spaces, in which four PACTESUR cities Nice, Liège, Xàbia and Lisbon, shared their experiences.
On the third day, European experts discussed which threats can arise from "new living spaces". In particular, Daniel Trottier, Associate Professor, Erasmus School of History, Culture and Communication, presented the digital surveillance threats that have been exacerbated by Covid-19 while Mariusz Czepczyński, PACTESUR Expert Advisory Committee, focused on the gap between security measures and perceptions of safety and how social anxiety can be managed in what he called "COVIDesque public spaces".
The afternoon session was dedicated to the opportunities and challenges provided by digital tools in the protection of public spaces. Some experts discussed the balance between privacy and security while others presented innovative security technologies, such as a "Voluntary Citizens Reporting Tool" introduced by Monica Visentin, Senior Policy Officer, Unione della Romagna Faentina.
You can still follow the conference live
Today (Thursday 22 October), European policies, collaborations and funding opportunities for urban security and safety will be introduced and discussed. The Partnership on the Security of Public Spaces of the Urban Agenda for the European Union, which is coordinated by the cities of Nice and Madrid and Efus, will be presented by Elizabeth Johnston, Efus' Executive Director and Sébastien Viano, Director of European Affairs and External Funding, City of Nice. European projects in which Efus is a partner will also be discussed and compared, such as ToNite, Cutting Crime Impact (CCI) and Secu4All.
The afternoon session will examine three phases in emergency management in urban public spaces, with interventions from Yves van de Vloet, Efus & PACTESUR Expert Advisory Committee, Paul Ekblom and Andrew Newton, University of Huddersfield and Notthingham Trent, and Nicolas Vanderbiest, Operations Manager, Saper Vedere, PACTESUR Expert Advisory Committee. Eric Esteve, Security Expert, City of Nice will be giving feedback on the March 2017 incident in which a 16-year old student shot a dozen students and a teacher at the Tocqueville High School in Grasse, a nearby town.
On Friday 23 October, Chiara Lucchini, Architect, Urban Lab Torino, will moderate a session on urban planning and design for urban security and safety. Laetitia Wolf, Design Impact Consultant and professor at the Sustainable Design School of Nice, will introduce the concept of Security by Design while Karine Emsellem, PACTESUR Expert Advisory Committee, will discuss the role of urban planning in the security of public spaces, with a special attention to the Promenade des Anglais in Nice, where a 19-tonne cargo truck was deliberately driven into crowds of people celebrating Bastille Day, in July 2016. Finally, Elettra Bordonaro, Architect and Lighting Designer, will dig into the difference between real (un)safety and perceived (un)safety.
> If you would like to attend the remaining sessions, please note that you have to register separately for each session. You will then be able to follow the live streaming in Italian, English or French.
---
About PACTESUR
The PACTESUR project aims to empower cities and local actors in the field of security of urban public spaces facing threats, such as terrorist attacks. Through a bottom-up approach, the project federates local decision makers, security forces, urban security experts, urban planners, IT developers, trainers, front-line practitioners, designers and others in order to shape new European local policies to secure public spaces against terrorist attacks