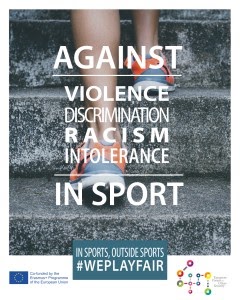 Make Amateur Sport Tolerant by Eliminating Racism and Discrimination
How to address the issue of violence, racism, discrimination and intolerance in sport and, more specifically, in amateur sport ? Through the MATCH-SPORT project, local authorities and sport organisations work together on reducing violence, discriminations, racism and intolerance in sport through the exchange of expertise and practices.
Objectives

The main goals of the project are to:

Develop or strengthen programmes to counter and prevent violence in amateur sport
Help local authorities improve knowledge on violence and prevention strategies
Empower local partners by providing them with suitable and adequate tools to answer with an integrated, multi sectoral approach, as they are well aware of the problem but often ill-equipped to address it
Activities

The main activities of the project are:


Establishing a picture of violence and discrimination in sport at the local level in several European countries
creating practice sheets on valuable actions regarding the experience of the city/region in tackling the issues of violence and discrimination in sport
creating a local training programme for local authorities, sport organisations and volunteers
implementing pilot projects in all partners cities
sharing results of the project during a festival in the context of the European Week of Sport (2020)
Brochure

The impact of sport goes well beyond stadiums: it is an activity that we consider as embodying our (arguably) universal values of human excellence, tolerance and fair play. But it can also be an arena for the expression of aggressiveness and in some cases violence, racism and other types of discrimination. If European and national authorities have been acting to detect and sanction such behaviours in professional sport for more than two decades, the same cannot be said of amateur sport. Its hyper-local and fragmented nature makes it difficult to implement nationwide or European-wide detection and prevention measures.
State-of-the-art

Violence in sport does not only affect professional sport and large events that receive a lot of media coverage: it is also manifest in amateur sport. In this field, incidents are often linked to provocations inciting hatred and discriminatory violence. These can be caused by players and athletes but also club managers, volunteers and parents. Some sports are more affected than others by incidents of violence, mostly of a discriminatory nature, but in any case, this issue requires appropriate interventions.
Consortium

LEfus is leader of the project. The project partners are:

Local authorities: Liège (BE), Lisbonne (PT), Loano (IT), Maranello (IT), Nea Propontida (GR),Valence (FR)
Other organisations: Europaische Sportacademie Land Brandenburg ("The European Sports Academy Brandenburg", DE), Unione Italiana Sport per Tutti ("Italian Union: Sport for Everyone", IT), Portuguese Ministry of Internal Administration (PT)
#weplayfair campaign on social media
Within the MATCH-project, an online communication campaign has been designed and broadcasted on social media during the European Week of Sport, from 23 to 30 Septembre 2020.
weplayfair features a range of posters aimed at raising awareness on discrimination and violence in sport and promoting the actions carried out as part of the project. The campaign is mainly aimed at field actors – sports professionals, amateur clubs, anti-discrimination associations – but also target the public at large and local authorities.
It seeks to fight all forms of discrimination in all sports disciplines and is based on the key issues identified by the project partners: the values conveyed through sport, the fight against stereotypes and violence, sport as a unifying force, and the central role of parents.
Follow us on social media: Facebook and Instagram.
… and spread the message! #weplayfair

---
News