Paris, France, October 2022 – How to prevent sexist and sexual violence at night? How to manage sound so that nights are lively without being a nuisance for residents? How to involve nightlife professionals in large events such as the 2024 Olympic and Paralympic Games in Paris? These were the main issues discussed at a Nightlife Platform (Plateforme de la Vie Nocturne) meeting in Paris, on 28 September. The Platform is a long-time partner of Efus.

The meeting gathered, besides Efus, representatives of European local authorities and trade bodies.*
Fighting sexist and sexual violence
Participants highlighted that preventing sexist and sexual violence in nightlife venues is a permanent challenge. The number of incidents is now stabilising following a wave of aggressions with empty syringes (contrary to attacks where the perpetrator uses the "rape drug", which incapacitates the victim). These types of attacks cause strong feelings of insecurity.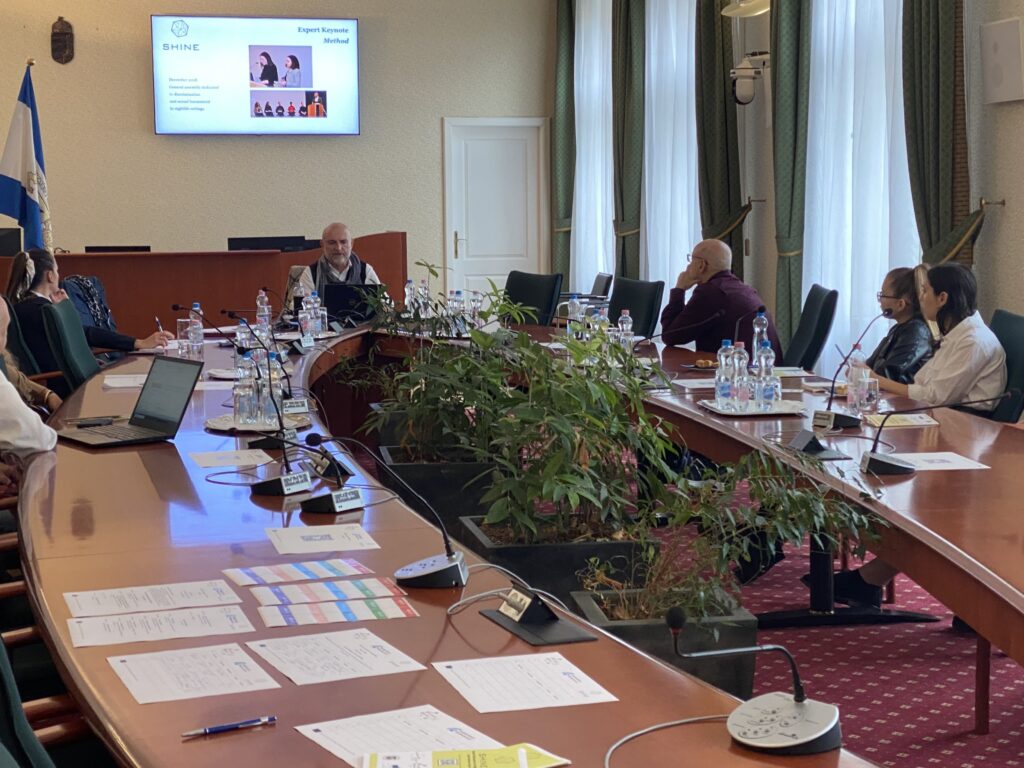 They also discussed various preventive schemes, such as training night time professionals, creating a network of places where victims can ask for help, such as the Ask for Angela scheme available in several European countries (as well as in the U.S. and Canada), victim assistance protocols, and primary prevention targeted at the student population. However, resources should be better structured and more easily accessible to nightlife actors, whether local authorities, the charity sector, or private organisations.
> Read our article on Ask for Angela in Bordeaux
The SHINE project for the prevention and reduction of sexual harassment
Efus is also working on the prevention and reduction of sexual harassment in nightlife venues through the SHINE European project (Sexual Harassment in Nightlife Entertainment Spots: Mitigation and Prevention) (March 2020–January 2023), in which it is a partner. Led by the Lithuanian Centre for Crime Prevention, this project seeks to create a common culture among nightlife actors and to provide them with prevention tools.
Efus is currently designing and organising work seminars in five European cities – 7th district of Budapest (HU), Leuven (BE), Marseille (FR), Prato (IT), and Strasbourg (FR) – jointly with representatives from these cities and experts in various fields, such as public awareness, assistance to victims and situational prevention. The working sessions to be held between October and December will involve local actors in co-producing security in nightlife venues.
Nightlife to be affected by upcoming large events
All the meeting participants highlighted the issue of staff shortages, whether waiters, baristas, security guards, etc. The increased staff turnover affects the quality of service and hampers proper training. This is particularly true for private security, which raises concerns for two big upcoming events in France: the Rugby World Cup (2023), and the Paris 2024 Olympic and Paralympic Games. Local and regional authorities say that the specificities of nightlife should be better taken into account in the organisation of large events, and in the training of security professionals.
Main areas of work for the year to come
Participants also discussed the priority areas of work for the year to come. These include sound management, i.e., how to preserve nightlife's unique sound (loud and with deep bass) without making too much noise for residents. Other priorities are security; public spaces and gender; 'greening' nightlife; embedding the specificities of night time in urban planning, and the night time economy. The work that will be conducted on these topics will feed into the International Conference on Nightlife scheduled for late 2023.
What is the Nightlife Platform?
The Nightlife Platform gathers various types of members: Belgian, French and Spanish local and regional authorities, actors from the cultural sector, hospitality trade bodies, resident associations, and organisations working on harm reduction and operating in underprivileged neighbourhoods.The Platform works according to a cross-sectoral approach to nightlife that takes into account the experience of nightlife users and professionals as well as public authorities. It explores all areas linked to nightlife, such as security and crime prevention, the night time economy and culture, and issues related to health.
> More information on Efus' activities on the topic of nightlife on our website and on Efus Network
* Cities of Barcelona, Lille, Nantes, Paris, la Rochelle, Rennes, and Saint Nazaire, Association of French Baristas (Association des Barmen de France), Fédération Culture Bar-Bars, Association for Sustainable Cities (Association Pour une Ville durable), National Union of Gay Enterprises (Syndicat National des Entreprises Gaies, SNEG), and the hospitality trade body Union des Métiers et des Industries de l'Hôtellerie (UMIH).