June 2022, Katowice, Poland – Organised and convened by UN-Habitat, the World Urban Forum (WUF) is the foremost international gathering for exchanging views and experiences on sustainable urbanisation in all its ramifications. The inclusive nature of the WUF, combined with high-level participation, makes it a unique UN conference and major international gathering on urban issues, regularly attended by Efus.
This 11th session will focus on the following topic: Transforming our Cities for a Better Urban Future. A better urban future will require overcoming the multiple crises cities are facing all over the world. Cities should be adequately equipped to respond effectively to a broader range of shocks and threats and to transition to more sustainable, just, green, resilient and healthy futures for communities across the urban-rural continuum.
Efus and its Women in Cities Initiative (WICI)1 are co-organising some sessions to present our long-standing focus on gender approaches and nightlife policies:
Women's Assemblies – 26 June (11h00-18h00) Grassroots women's groups, organised by the Huairou Commission.
Women's Night Walk – 26 June (21h45 – 23h00) In partnership with Vibelab and Safetipin, participants are invited to conduct their own safety assessment in Katowice. For more information.
Good Nights: Rethinking Urban Safety, Wellbeing, and Community through – Culture After Dark, 28 june (16h30-18h00) For more information
Grassroots & Women's Roundtable – 30 june (13h30-15h30)
If you are interested in joining us, please register here.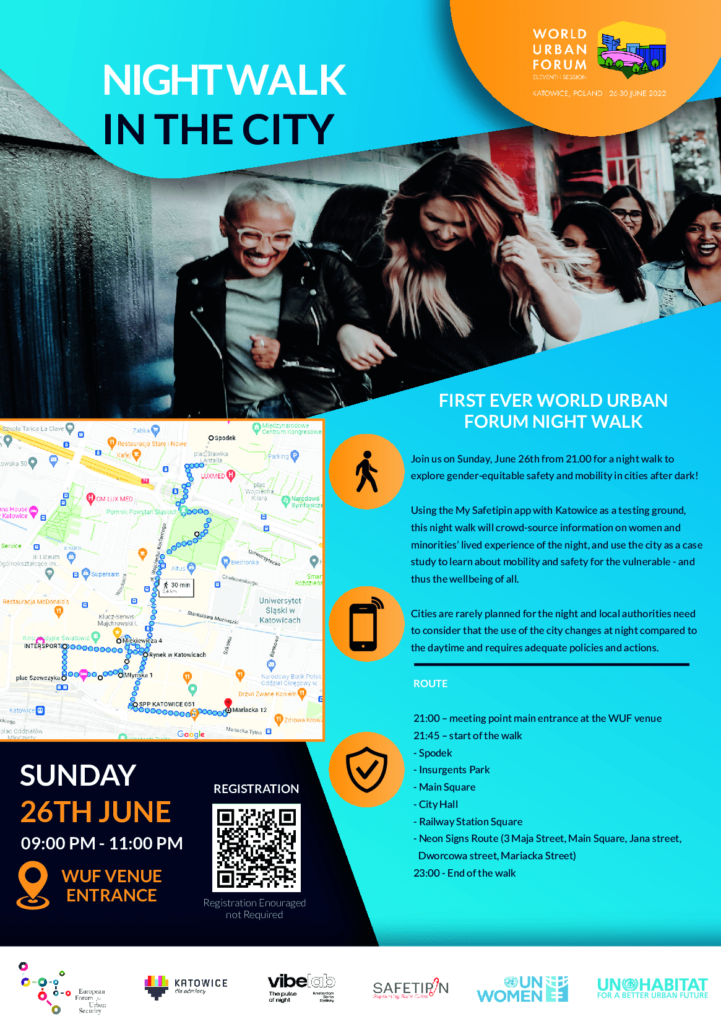 ---
What is the Women in Cities Initiative (WICI) of Efus? Women in Cities Initiative (WICI) seeks to empower women and girls by mainstreaming gender into the design and implementation of urban policy and strategies. Gender inequality is deeply entrenched in public and private life; professionally, socially and economically. The Covid-19 pandemic has deepened and exposed pre-existing gender inequalities and vulnerabilities, both in Europe and beyond. In particular, security forces are typically dominated by men, making it hard to provide appropriately representative services. Women tend to be hesitant to join security services; they can suffer setbacks in progressing through the ranks and might struggle to gain recognition as equals alongside their male counterparts.
What do we offer? Incorporating 20 years of experience in gender equality, WICI offers a vast network of experts and experience working with and for women and girls at the intersection of gender and urban security. Within Efus, WICI will conduct in-depth work in three specific areas: (1) gender mainstreaming methods and tools (such as women's safety audits and (2) gender inclusivity in local security forces, intervening to demonstrate and introduce the benefits of diversity to both the culture and operation of the forces themselves and the services they offer as well as (3) expert consultation on gendered approaches to public spaces and mobility. 
Bolstered by Efus' well-established network of 250 cities and regions, WICI is now focused on delivering its long-standing work towards gender equality within Europe. Efus fosters a culture of collaboration and the sharing of promising practices between cities, enabling them to capitalise on their practical expertise.
As the closest level of governance to citizens, local and regional authorities are best placed to assess and identify situations where fundamental rights are threatened. Within Efus, WICI's work will thus not only be determined by its own existing expertise, but also by the priorities and interests of the cities themselves.
Are you interested in taking part in this initiative? Please fill in this questionnaire to know more about your interests and identify the specific topics you would like to explore with WICI.
Footnote
1 Women in Cities International was a non-profit network focusing on gender equality and the participation of women in urban development founded in 2002. WICI represents the incorporation of this network into Efus' network, creating opportunities for new partnerships and specialist interventions in cities across Europe and beyond.