Efus has been working for many years on the theme of surveillance technologies, notably as part of a European project (2007-2011) which studied interactions between citizens, cities, and video surveillance.
Efus is currently working on a research project on the ethics and efficiency of technologies, as part of a European project financed by the European Commission through the budgetary line FP7 for research and innovation. This project is titled SURVEILLE.
The role of Efus in this project is to gather the views of cities' decision-makers and to contribute to recommendations that will feed the general research process. A work group, gathering a dozen European cities, among which some French cities, has been set up. It is tasked with studying the practices implemented by cities regarding surveillance technologies (not limited to video surveillance).
On the occasion of a meeting organised in Lyon as part of this project, on 27 February 2014, and presided by Jean-Louis Touraine, Member of Parliament, Rhône, and former Deputy Mayor of Lyon in charge of public order and security, Mark Burton-Page and Sebastian Sperber, of Efus, interviewed him on Lyon's policy on surveillance technologies.
How would you evaluate the efficiency and cost-benefit ratio of CCTV in Lyon? What was the outcome of the analysis that was carried out with the University of Lyon in 2010?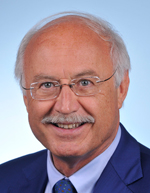 Jean-Louis Touraine: Analysing the video system is of utmost importance. We were completely unbiased when we installed the CCTV system in Lyon; before its installation we were neither convinced by it nor opposed to it. The system required a large amount of investment, so we needed to be certain of its efficiency and guarantee that it would not threaten civil liberties. We therefore carried out an internal and subsequently an external evaluation with the help of a PhD student employed by the council (CIFRE thesis). This PhD student has been conducting a quantitative analysis of CCTV in Lyon for the past two years and works with the Universities of Lyon II and III, the polytechnic of Lausanne and the CNRS (the French National Centre for Scientific Research), where the PhD supervisors are based. This thesis is in its last year so it has not been defended yet, but it sheds light on several aspects.
First of all, this does not just entail an analysis of the efficiency of CCTV simply by measuring prevention quantitatively, nor just a question of how much this will lower crime rates… because results vary depending on the time of day and the location. No unequivocal statements can be made as the efficiency that can be recorded at one level is not necessarily reproduced elsewhere. However what we know for certain is that CCTV leads to more criminal cases being solved successfully- over 2,000 in 2013 according to data reported by the national police. We also know for certain that CCTV enables better coordination and means we can be there for victims as through CCTV emergency services can be alerted to intervene in the event of an attack. CCTV also helps- and this is by no means insignificant- to manage the city; it helps local urban management. It is important to point out that CCTV is effective at night, provided that the street lighting is suitable, as it means we can respond to an emergency straight away; this enabled us to arrest two rapists in Lyon who had caused great social alarm.
Secondly the thesis encompasses a more general idea,  namely how does CCTV change people's behaviour? The researcher asked many stakeholders: local government and state department, businesses… With various subtle elements, he can show that CCTV helps restore a feeling of security.
We began this truly scientific approach in Lyon. This research provides a valuable contribution on many levels and not just on an operational level, as it is an unbiased, academic research project that helps understand how CCTV changes life in a neighbourhood.
Thirdly, analysis indicates how and where CCTV is effective. This will help develop convincing arguments for those who are categorically against it or, from one extreme to the other, for those who want to see cameras on every street.
I would like to add one more thing; local authorities must respect civil liberties. We must be able to enhance the knowledge base of crime and disorder, in order to serve the citizens in the best possible way, but we must also make sure that images of private areas are blurred with specific techniques. We have also placed a strong emphasis on the professionalisation of operators and their training in civil rights. They commit to complete discretion and strict confidentiality, whilst also developing their observational skills (knowing what and who to look out for, and how to pass on the information), all with the utmost respect for civil liberties.
Do you have smart recognition schemes that supplement the work carried out by the CCTV operators?
No we don't have any smart software at the moment, but we could, as long as certain precautions are taken first. We have an agreement with the residents of Lyon; we have a duty to be transparent, hence the cameras were installed after a lengthy period of studies and discussions with neighbourhood councils. If people did not support this decision, we listened to their opinions and sometimes decided not to install the cameras. It is often a matter of letting the ideas themselves develop. We don't do anything without the citizens of Lyon's support. Take for example using CCTV to report traffic offences- this could be possible but only if people are informed beforehand and we will need to communicate a new, very transparent message. Some may indeed be critical: "the taxes we pay are used for these schemes that generate even greater tax revenues".
Has analysis ever led you to alter, or even abandon, plans for the location of the cameras?
We have relocated some cameras as some areas developed new needs, for example in La Confluence [a new area in the City centre]. In some high-rise apartment blocks in La Duchère [one of the deprived neighbourhoods in Lyon], cameras are not the right solution as drug dealing takes place in private spaces. Furthermore, we had underestimated how useful cameras in the shopping centre would be, so we moved some cameras there.
Does the creation of the Metropolitan area entail some kind of pooling between the various CCTV systems in the urban area? For example, are they shared with the surrounding communes like Vaulx-en-Velin?
We are very attached to the Mayor's policing powers, so any large-scale pooling is unlikely to happen in the near future. However, we must somehow make our equipment compatible, especially between the various local authorities and between the local authorities and the urban transport system. If aggressive groups of people move from one area to another, we must be able to implement the same measures.
Lyon was the first city in France to set up an ethics committee. What is its purpose?
The ethics committee, which includes members of the opposition, provides the city with appropriate advice that we follow systematically. I always say "power tends to corrupt, and absolute power corrupts absolutely": the ethics committee serves to avoid any abuse of power and requires us to write an annual report on our scheme.
But do people living in Lyon know about this ethics committee, and that it is possible to alert it, file a complaint ?
It's true that the ethics committee has taken very few cases of complaints. When people are concerned about their civil liberties, they are going to protest. If they don't protest, perhaps it means that they aren't worried about them? The scheme is not absolutely perfect, but it is a good scheme. The press has made everyone aware of the circumstances in which CCTV enables repression as well as prevention; we have also been able to prove some people not guilty, for example a lawyer was concerned that police violence might have taken place during an arrest and we were able to show that it hadn't. The cameras are used to exculpate as much as they are to incriminate, and the policemen know this. Thanks to CCTV images of the robbery of "Global Cash" on Rue de la République, we were able to see which robber was the leader of the gang, who fired a shot, and which robbers were the inexperienced followers. We used the images to adapt the legal response.
In addition to speed cameras and using CCTV to report traffic offences, what are your views on other kinds of security technologies that a city like Lyon can implement?
Our philosophy is that we do not do things that are only intended to reassure people and lower the feeling of insecurity in the short term. We want to produce results. We are not interested in launching an app for smartphones without a preliminary study or a follow-up afterwards. We must research every new scheme in order to eliminate subjectivity and to identify support. What happens after we have set up a piece of technology? What happens if we put a complaints system online and there is no-one to respond to these complaints? We will produce short-term satisfaction but long-term frustration! We already have schemes in place in district councils that act as local mediators, as well as the system Lyon live. On the other hand, Lyon cannot be the laboratory for every new experiment. We already have launched Vélo'v (the bicycle free service), and new parking meters that accept payment by debit card; we spent two years preparing this system as it is very complex and we had to make some alterations.
In your opinion, what are the prospects for your city regarding technologies?
We are unmistakably heading towards the "smart" city, a city in which information is shared in a way that helps everyday life. I am all for that. But we should also take into account the different cultural levels in this big city and take into consideration the fact that any new system may marginalise people, even as we seek to create an inclusive city. Today we need technologies that are accepted by the majority of residents. In Lyon we believe in diversity, and in a nutshell, we are in favour of a smart city, but it must also be an inclusive one.
2014-04-14
1397486879
6627