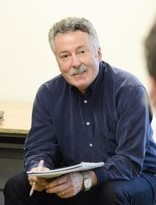 Chair of the board of the European Forum for Restorative Justice
After a lengthy career (1972-1999) in the Probation Service rising to a senior management position (Assistant Chief Probation Officer), Tim Chapman established CTC Associates, an independent research and training consultancy, in 1999. Between 2009 and 2019 Tim Chapman was a lecturer and course director of the Masters programme in Restorative Practices at the University of Ulster. He now teaches at the University of Sassari, Italy, as a Visiting Professor and at The University of Strathclyde as a Visiting Professor. He also offers training, research and consultancy in restorative justice. 
Through the Ulster University restorative practices programme, hundreds of social workers, community workers, youth workers, teachers, police officers, prison officers and probation officers have been trained to a high standard to practice in a variety of social, community and judicial contexts. These have included in families, schools, local communities, organisations, crime prevention, drug use, courts, policing, probation, youth justice and prisons. Tim Chapman has also delivered high quality training in restorative justice in many countries throughout the world.
Tim Chapman was the principal investigator in Northern Ireland in a major research programme funded by the European Union Framework Programme 7 and involving six European countries. This project, ALTERNATIVE, examined the contribution of restorative justice to justice and security experienced by communities affected by conflict in an intercultural context. This project came to an end in January 2016. Two books on the findings have been published by Routledge. More recently he worked as an expert on the EFUS BRIDGE project on polarization.
Currently he is acting as a restorative facilitator in complex cases of institutional abuse by faith organizations. Tim Chapman is Chair of the board of the European Forum for Restorative Justice (2012 to present).