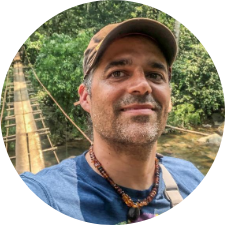 +Peace Connected Stories Manager
Thor Morales is a seasoned facilitator who blends participatory practices, audiovisual media, and passion for positive change. He is an Ethnobiologist by training and a self taught photographer, filmmaker and participatory video & photovoice facilitator.
Thor has worked in the American continent and Africa in projects where community needs are at the core. His experience spans from community conservation in the Sonoran Desert to trauma-informed workshops with mothers and women who lost their loved ones to police brutality. He's been involved in participatory video & photography for a decade, working in North and South Mexico, West and East Africa, and North and South America, facilitating participatory media projects and experiences. He has an B. Sc in Biology but has devoted much of his career to supporting media initiatives in rural, urban and indigenous communities in their quest for self-determination, autonomous narratives and a better future. Thor loves to spend time with his daughter Malaika, traveling, rock climbing and sharing audiovisual media to make a positive change in the world. Through his work at Activate Labs he is now developing participatory design methodologies that combine peace and media to help collectives and organizations unveil viable, feasible, and transformational paths towards conflict resolution in a non-violent way. Thor is also a professional photographer and videographer who has produced content for clients as diverse as World Wildlife Fund (WWF) and Aids Heatlhcare Foundation (AHF).