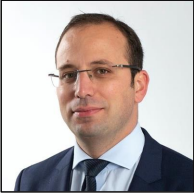 First Deputy Mayor, City of Nice (France)
Anthony Borré was born on the 16th May 1985 in Montreuil and is the First Deputy Mayor of Nice, in charge of security, housing, urban renovation and city policy. He is also Vice-President of the Nice Côte d'Azur Métropole and President of the first social landlord in Alpes-Maritimes: Côte d'Azur Habitat. 
A long-time collaborator with Christian Estrosi, with whom he has worked in l'Assemblée Nationale and the Ministry of Industry, he later became his Director of Cabinet for the Metropole from 2011 to 2020. 
Anthony Borré, who has a masters in public law and a second masters in strategy and public and political policy, was nominated for '100 young economic leaders of the future' by l'Institut Choiseul. At 24, he was the youngest member of Fillon's government.